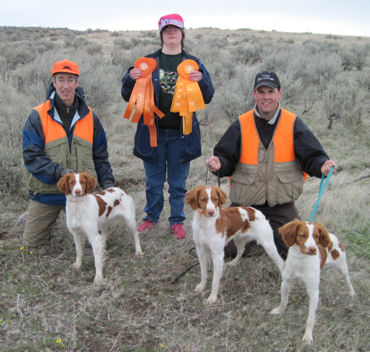 L to R: Humans: Todd, Skye and friend Jim. Britts: Breez, Ruby, and Ida. Ruby hips are rated OFA Excellent. These are all Maggie x Dubb pups (sisters) at a very successful AKC hunt test in ID, 3-2012. Ruby is 3 yrs old, Breeze and Ida just one year old. It rained and snowed at the event. We had a great time at this hunt test and REALLY like the way these dogs hunt!!
Update Fall 2013: Breez's & Ida's hips are OFA Good, Elbows Normal.
Liberty (Ellie Mae) from Maggie x Quinn, summer 2013 litter.
Her home is Asotin, WA.