See also:
OUR BRITTANYS
and
PAST LITTERS
- click on photos of each dog for many more hunting photos.
The main function of our Brittanys is hunting! We love the Brittany!!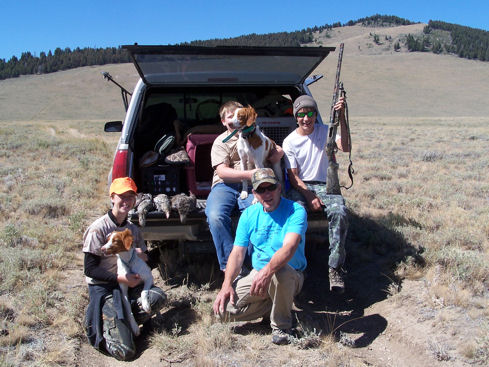 Sage grouse hunting - morning break - Sept., 2011. L to R: Sari with Breez (Maggie x Dubb), 3 sages, Zeb with Pepper (Meadow x Cooper), Steve and Pete.
Britts left to right: Wyndy, Jesse, Maggie and Meadow.
With Wrangler and Cache and my limit of opening day pheasants, 10/10. Todd.
Kids, Brittanys and birds on a super fall day in Montana...
Wyndy, Todd and cousin Hanna with Montana pheasants and sharptails, 2002.
Sari and Wyndy with the first sage grouse of the 2006 season.
Sari- with Brittanys Ica and Wyndy, holding 2 sage grouse (hens) on Labor Day, 2004.
---
Hunting grouse in Montana with friends, kids, and Bonner - what fun!!!!!!!!!!!
Wyndy fetching and Dad's rescue Britt, Montana, 2003,
---
---