---
This page honors our dogs of the past with stories and photos and shows some of the other activities we do as a family such as travel, fishing, skiing, and big game hunting.

Wyndy fetching. Painted by Katerina, a foreign exchange student at Whitehall, 2008.
---
Many of the dog stories on these pages are about the mistakes we made or the "bad" things that happened- which often turn out more fun in the telling, in the end. We call them adventures for some odd reason. It seems that when everything goes well, the dogs hold their points, we shoot O.K., the birds are numerous, the dogs fetch well and we get home in one piece, there just is not much to say about it.... When we think about those good times - which all sort of run together in a wonderful rainbow of experiences, we just get that knowing slight smile and that far away memory look on our faces and say "good hunting." Those mellow sun rises and those quiet times walking alone with just the dogs and our thoughts, are priceless...
Our adventures also allow us to learn life's lessons (as humans seem to mainly learn by experience...). So, as you read through these, you will see some of the big mistakes we made and how we reacted when "bad" things happened and may be you will not have to learn these same lessons the hard way as we did. Hopefully you will laugh a bit as well.
---
The 1960's and 1970's with my Father:
Dusty
- Ears a flappin', "How not to shoot your dog..."
Bunny - And they eat porcupine quills, don't they?
Beau
The 1980's and 1990's in Montana:
Lark - The 9 lives of Lark: 1) hit by car of my student, 2) hung out on fence to dry, 3) a falling out at Deer Lodge, 4) stolen on opening weekend, 5) train tracks and close calls, 6) strychnine skunk, 7) tromped by moose while Daddy takes a PP, 8) Dad's Decon is gone!, and 9) rattle snake bit (or how to test your future bride in the wilderness). Stories of each to come... Oh, and then there was that buffalo in Yellowstone...
Siskin - Greedy Gullet
Tab - Son of Siskin & Lark
Lu
Bonner - Son of Lu
Ica - Started dog to a select Montana home!
Wesley - Wyndy x Dante

The 1990's and 2000's:

Jesse - Son of Wyndy x Redd
Meadow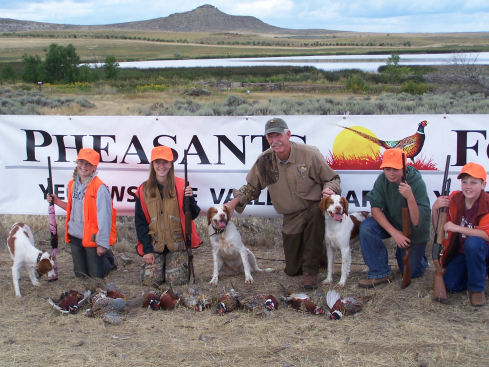 Sari (2nd from left) during a SUPER Pheasants Forever youth hunt near Billings, Sept. 2008. Thanks for putting this event on!!
---
Cleaning pheasants 1980's Washington pheasants Wyndy - Oily Situation
---
We have some family activities that "take time away" from dog activities. One is Big Game Hunting. We are meat hunters and try to get the big game freezer filling activities out of the way as soon as possible so we can get back to bird hunting. Big game hunting is a tradition filled family activity with us. We elk hunt a spot we call "Elk Hole." It has produced 56 elk for us and friends since 1986:


2017. JD's bull. Gloving up for the gut.


2017. D's elk.


2017. Dad's elk.


2017: Quartering up Todd's 5x5 with a saws-all.


Todd's 2016 Bull


Dad's 2016 cow. l-r: Dad, Diane, and Sari.


Dad's 2015 cow.


Sari and Big D with one (half) of the cows we shot in 2016. Family and friends shot 6 elk from Elk Hole in 2017. A fairly good year...


J.D. dragging a quarter of Sari's 2014 cow elk out. We work hard for our elk!


Our buddy Big-D's 2014 bull. Elk hole was good to us this year!


Sari's Cow, 2014.


Sari's 2014 5x6 Bull with J.D. holding. She shot her cow and bull out of the same herd. A good day of elk hunting!



Todd's 5x5 bull taken opening weekend 10-26-14. I took the horses Ruger and Cruz in by myself. They packed the quartered elk out in one trip. I was real proud of them esp. Curz as it was his first time dealing with a dead elk on his back!!



Ruger with the hind quarters and the rack of Todd's 2014 elk.


Todd's muley buck, 2014.



Nov. 2013: My 83 yr. old Father dragging his rag horn bull out to the truck. We cut it into 2 pieces to drag it across the hill and then it took only 1 person to drag it down the hill in the snow to the truck.


Sari's 2013 5x4 buck. She made a great running shot as I pushed the deer out of heavy cover.

Todd's 2013 'lope. 10-12-13



Nov. 2013: Todd with parts of 2 cow elk quartered up. Darrell and I shot these elk in the deep canyon behind the rocks in back of Todd. We had to quarter them to drag them up out of the canyon one piece at a time. Then it was an easy down hill drag with a short steep up hill at the end to the truck. We chose not to use the horses and got the elk out the same day we shot them. 'Hard work but, worth it!


Diane and Dad with Dad's 6x6. 2011. Not bad for 81 yrs. old!


Todd's 5x5 about to be quartered up and packed out on the horses. Nov. 2012. This is when the real work of elk hunting starts...


Here are our 2011 elk and deer racks. L: Todd with his 4x5, Diane with Dad's 6x6, Dad with Diane's 3x2, and Sari with two stray whitetail bucks 4x4 and 4x3.


Todd with his 2009, 2010, and 2011 elk racks.


Todd's elk, 2010


Skye and Sari with some whitetails, 2010.


Todd's 2009 'lope.


Colleen, Dad, Diane, and Sari dragging Sari's big cow elk out. We shot 4 elk opening day: Todd: 4x4, Dad: big cow, Diane: big cow, and Sari: the big cow pictured. It took the help of several friends and 1 & 1/2 days to drag all of the elk out.




Sari's 08 buck and elk

Todd's 08 elk
---
Fishing: Links Page. We usually bring our dogs with us when fishing! Many of them watch the dry fly and warn us of strikes!

---
Horsing Around: Links Page. So far our horses have been so mellow that our dogs don't even know that horses kick!
Skunk Scent Removal Formula: 32 oz of Hydrogen Peroxide, 1/4 cup of Baking Soda and a TBSP of Dawn or some type of dishwashing soap. Wet the dog down, pour the mixture all over the dog, let stand for 5 - 7 minutes, rinse off, and give a regular bath. Repeat if necessary. Don't bother with Tomato Juice, Vinegar, they don't work.
---
Travel:

| | | |
| --- | --- | --- |
| Europe '97 | Mexico' 03 | Egypt |
| Europe '99 | Road Trips | Ireland '05 |
| Todd - China '88 | Todd - Europe '80 | |
---
Skiing: X-country and Downhill.
---
Family History
---
Brittanys have not been called the "Brittany Spaniel" since the 1980's.