---
Welcome to the web site of Warbonnet Brittanys!

Hello, I am Todd and I grew up with those wonderful do-it-all family hunting dogs we call Brittanys!! I have owned, hunted, and enjoyed Brittanys with my Father in Eastern Washington since I was a youngster in the 1960's. I moved to Montana in 1976 and started breeding an occasional litter of Brittanys in 1984. Now my family and I live, hunt, exercise, field trial, show, hunt test, hike, rally, fly fish, agility, etc., etc., with our fine furry Brittany friends here in Whitehall, Montana. We also breed an occasional litter of Brittany puppies from OFA (hip) certified Dual Quality Brittany bloodlines that can HUNT!
HAPPY HUNTERS/FAMILY We are a Brittany breeder of Merit and occasionally have Brittany Puppies for sale. We are active members of the
MONTANA BRITTANY CLUB
and
THE AMERICAN BRITTANY CLUB
.
---
We hope this web site will educate you about Brittanys, us, and the many ways you can enjoy one of these fine little dogs. TB & Family.
---
---
This box updated May 18th, 2019.
---
1. Turah x Tempo - 5-18-19: Turah whelped 10 pups today. See the puppy page for progress.

Turah and her 10 new pups just an hour old on 5-18-19.
---
2. Belle x Coltan - Pups expected late-May.

Ultrasound on 5-3-19 shows at least 4 puppies.
---
Deposit: $100. Pups: males $1,000 & females $1,100. For much more info. see our Puppy Page.

---
1. Turah x Tempo
Pups due mid May.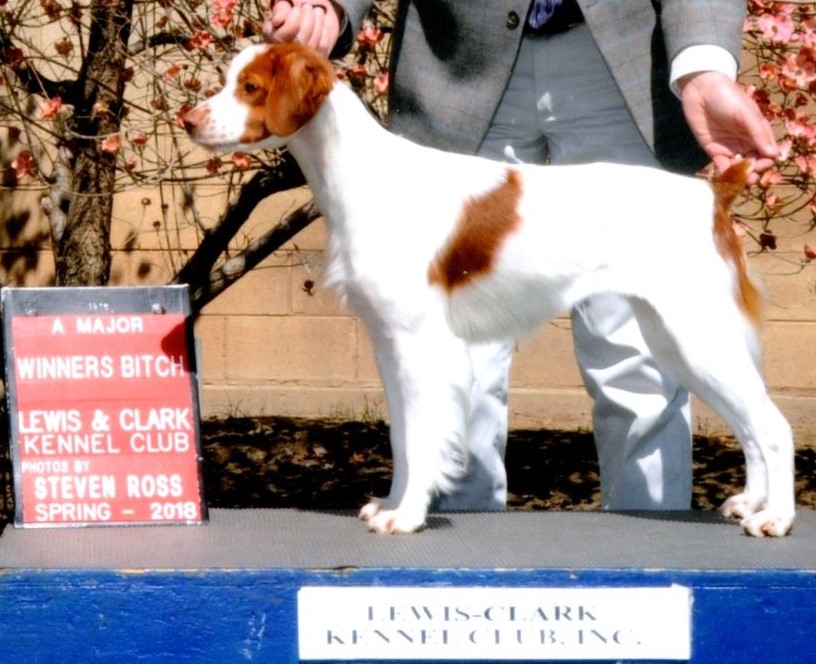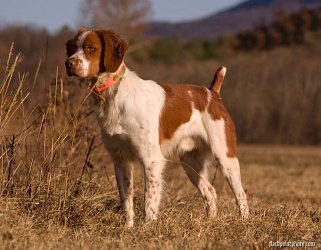 Turah winning a show major. Tempo on point.
GCH Warbonnet Wynd Turing Firestarter JH x DC/AFC Kinwashkly Tempo

---
2. Belle x Coltan
Pups due mid May.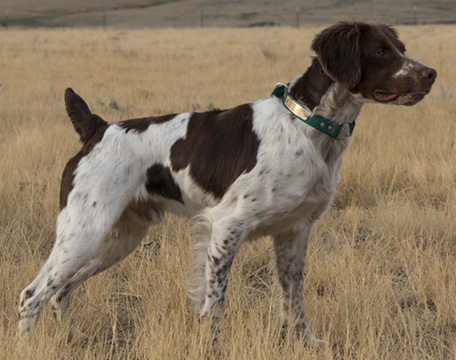 Belle winning a field trial. Coltan on point.
CH Warbonnet Wynd Drinker x CH Alar's Chasing Paydirt

---
Happy Dancer x Oudi New Pup Owners:

April, 2019

Happy Dancer x Oudi pups and their new owners!

---

Excellent/Good News!
Belle's hips came back OFA Excellent, Elbows Normal.
Turah's hips are OFA Good, Elbows Normal.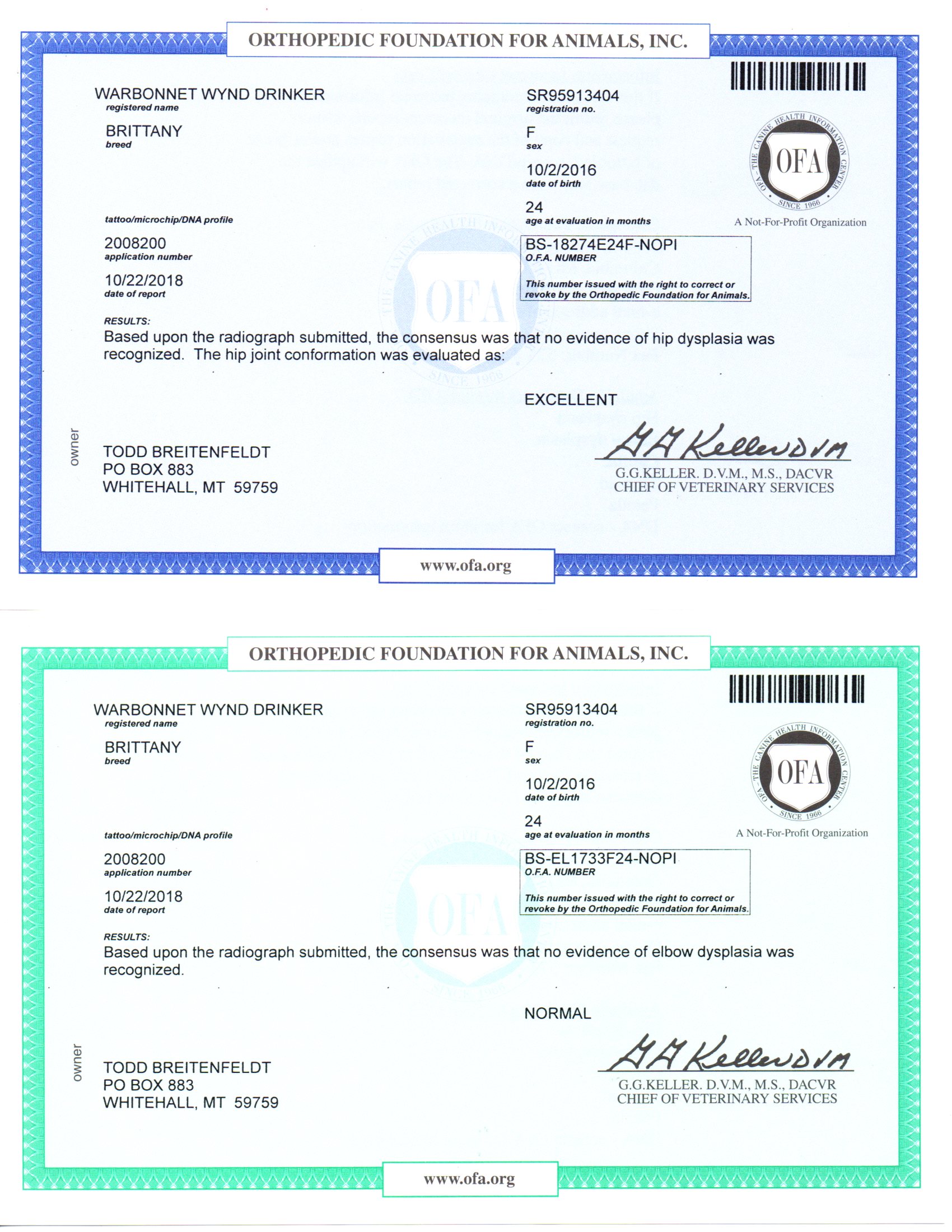 ---
Turah is a new Grand Champion as of Sept., 2018. Now we can concentrate on hunting!!
---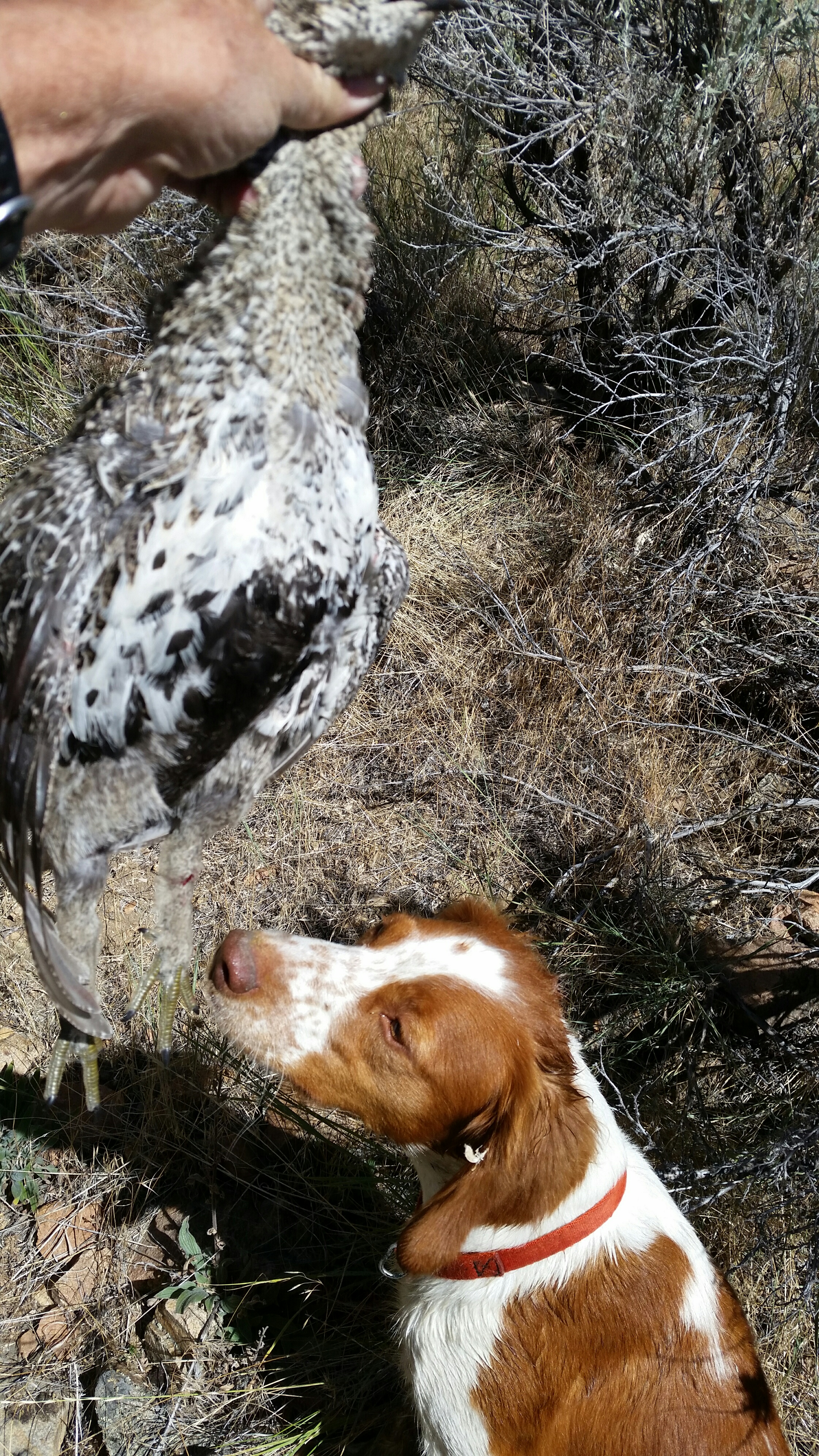 Belle and a sage grouse she pointed 9-2-18.
---
Belle is a new Champion as of June, 2018. Now we can concentrate on the field!
---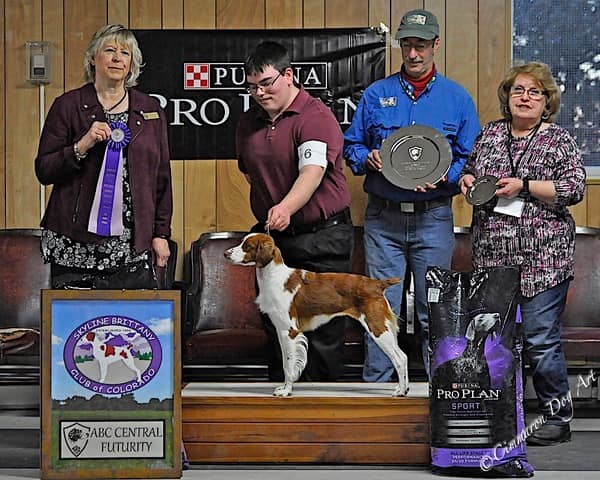 Kintla, our newest pup earning 2nd money female at the 2019 Central Futurity in Colorado March, 2019.
We co-own her with Tommie of Elkhorn Mountain Brittanys where she spends most of her time. Kintla is out of our Dual Champion Rye, and Tommie's GCHB Tipsy.
---
Todd with Belle (Dancer x Ned, 2016) winning the AWD at the California Brittany Club field trial January, 2018. The next day Belle took 3rd in the Junior Class at the American Brittany Club Western Futurity show.
---
Etta, very into her birds... from Dancer Dancer x Ned.
---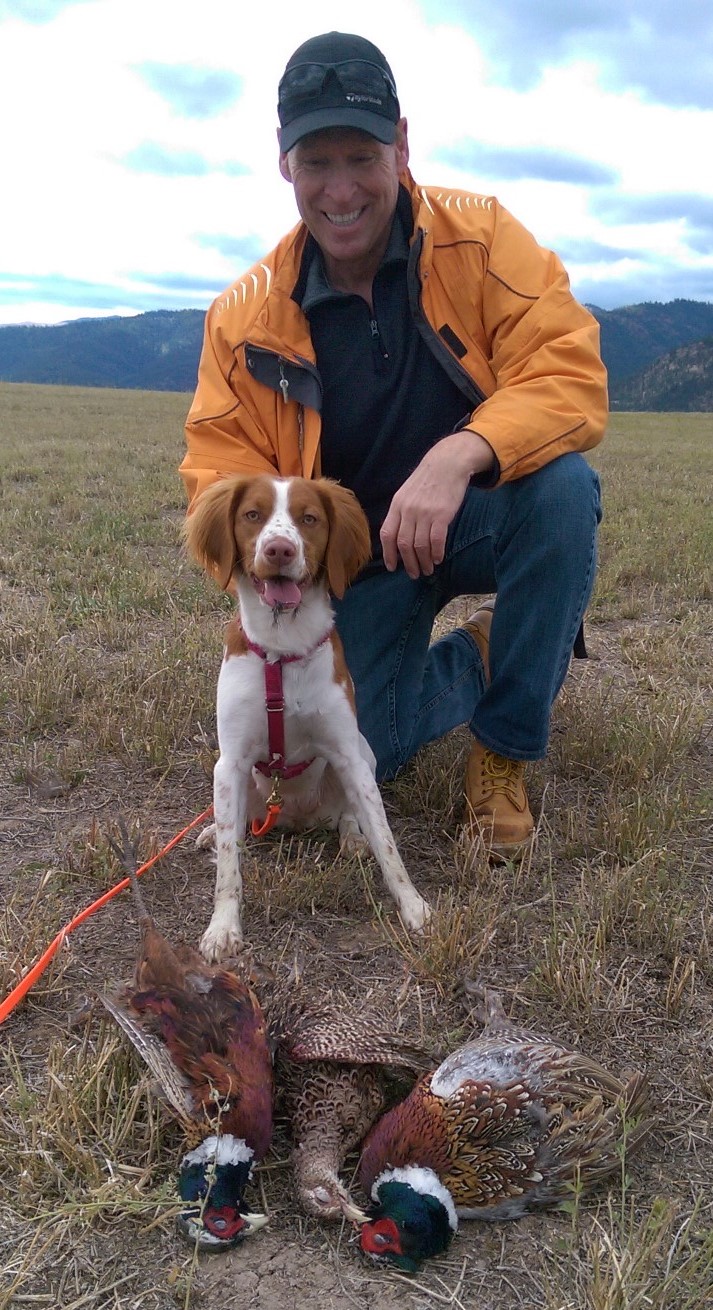 Lexi at 13 months, a Dancer & Ned pup.
From her owner: "
She is a natural! Very little training required. She has been an excellent dog. Very smart, kind, loyal protective, (rarely leaves my side). She has kept us entertained a lot! We couldn't have asked for a better girl.
"
---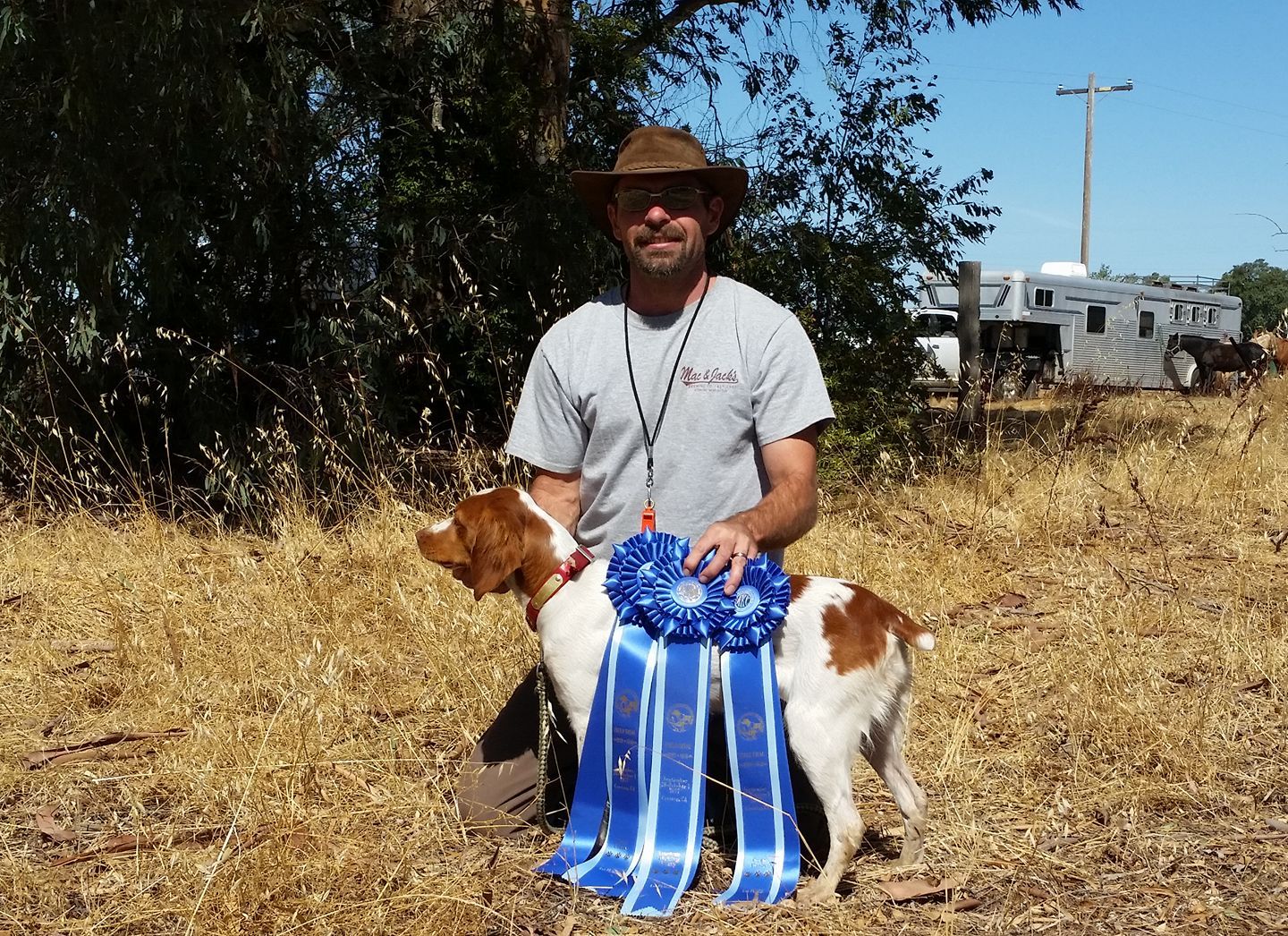 Great day for Skye (Warbonnet & Campbell's Skye's The Limit) at the Northern California Brittany Club Field Trial winning the Open Derby, Open Puppy and Amateur Walking Puppy stakes, Sept. 2017. Skye (pup name Annie) is out of Dancer & Ned.
---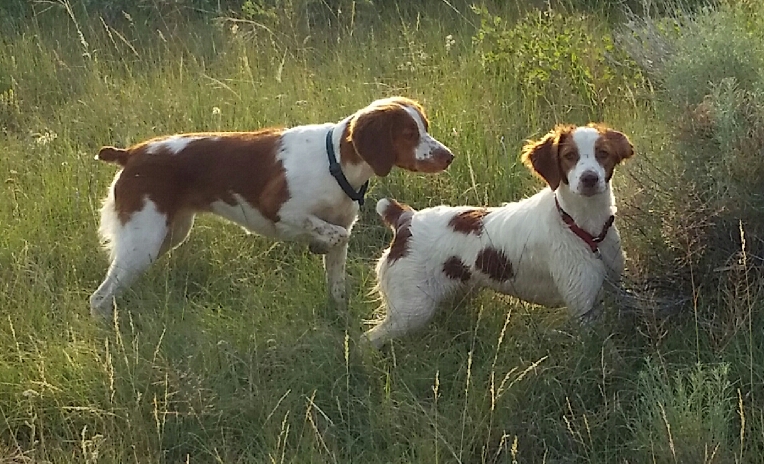 Belle (left) and Turah on point during a hot July '17 training session.
---
Driggs (2015 Breez x Arrow, Lithic Points Litter) at the lake.


---

Five generations of Warbonnet Brittanys!
1. Right: Wyndy, 15.5 yrs. old. [Wyndy died at age 16 in Oct. 2017] 2. Lying down: Wyndy's daughter Maggie, 12 yrs. old. 3. Left: Maggie's daughter Breez, 6 yrs. old. 4. Top: Breez's daughter Dancer, 3 yrs. old. 5. Second from top: Dancer's daughter Belle, 6 mo. old.
Third from top: Turah, out of Breez's brother Rye, 5 mo. old.


April, 2017

---
Warbonnet Brittanys (2 generations pictured here) find birds everywhere! Fall, 2016.
---
Warbonnet Brittanys know how to find birds! Thus is Quinn who belongs to Thatcher in Idaho. 10-16-16.
---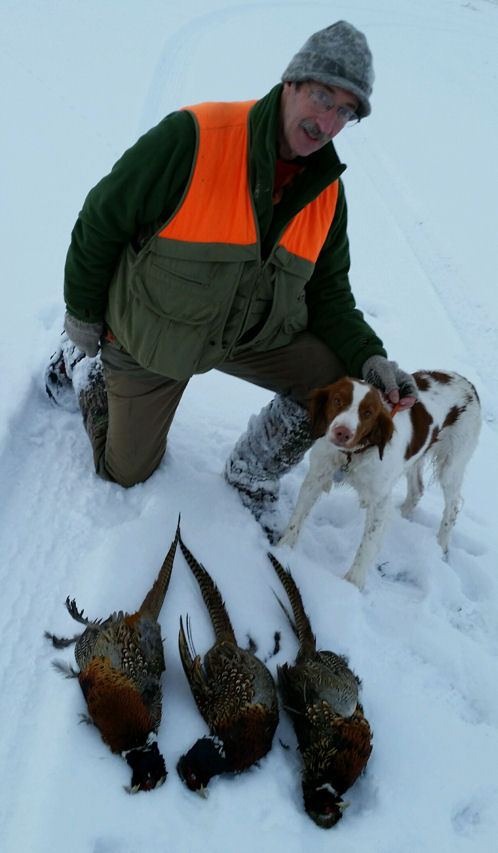 Breez and Todd with a limit of WA pheasants, Dec. 2015. We were hunting with my 85 yr. old Father in 7 degrees, 15 inches of crusted show in SE WA. Breez is carrying Arrow pups in this photo.
---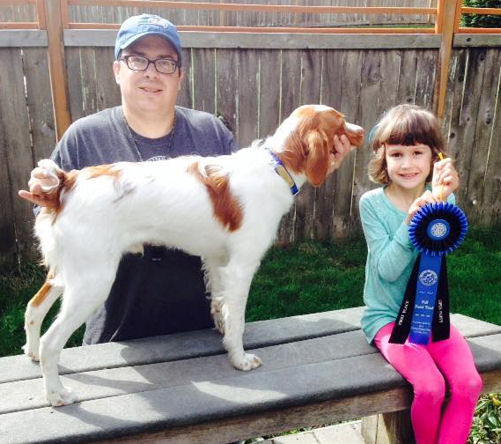 Rex (pup name Clovis), from Breez x Arrow 2015 litter winning 1st place in the puppy stake in his first field trial in WA. Congrats to the happy owners and Rex!!
---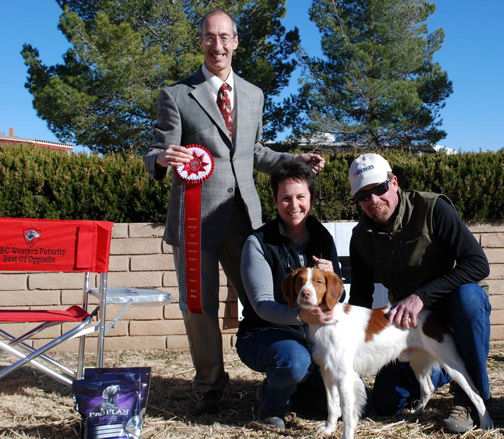 Indy (Maggie x Quinn) earned 1st money male and best of opposite at the American Brittany Club Western Futurity on January 5th, 2015 in AZ.
---

Dancer on her first pheasant hunt. She pointed and fetched several roosters. Not bad for 7 months old!
Dancer is out of: Breez x Quinn

---
At Stud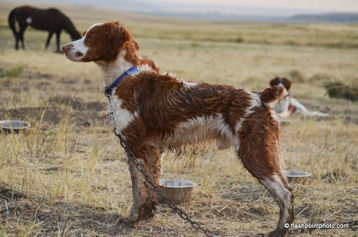 Rye
DC Warbonnet's Orion In The Big Sky, JH
OFA Excellent

Co-owned by: Melody Edwards, Todd Breitenfeldt & Sari Breitenfeldt [Sari is pronounced like Kerry but with an "S" rather than a "K"] All proud members of the Montana Brittany Club. http://montanabc.org/
Bred by: Todd and Sari - By: 2xNAGDC, DC, AFC Clyde's Double Trouble x CH Warbonnet Golden Magpie, JH. Handled to his CH by my daughter Sari. Handled to his pup and derby FC points and JH by Melody. Handled to the 2011 Western Futurity Dual Dog Award by Sari and Melody.
http://clubs.akc.org/brit/2011/ABCWesternFuturity.htm
---
Elk antler dog chews - Deer antler dog chews
For sale: Chews Montana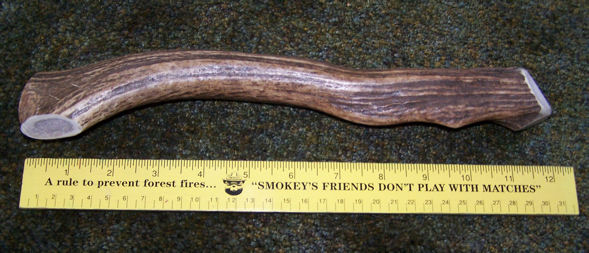 Click on the link above to find out more about these all natural, made in Montana, long lasting dog chews!
---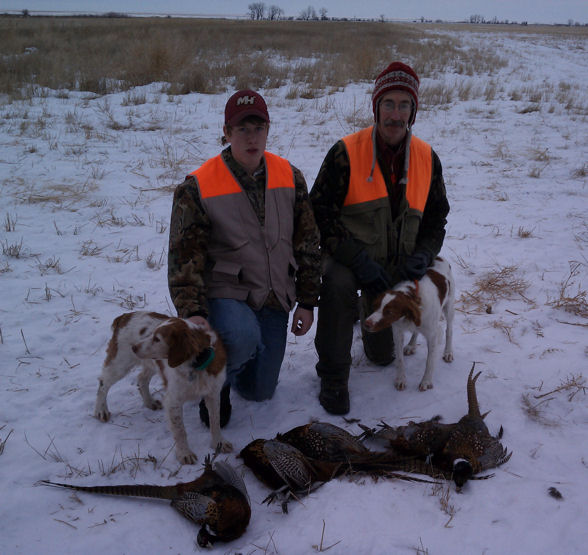 Humans L to R: Wrangler and Todd
Dogs L to R: Meadow and Breez
A late Dec. 2013 pheasant hunt on a VERY cold Hi-Line day.

---
L To R: Humans: Jim and Z. Britts: Ruby, Ida and Breez. All from Maggie x Dubb. Hunt test ribbons 3-2012, ID. A snowy and rainy weekend. Ruby belongs to Jim, we co-own Ida with Jim and Breez is ours. March, 2012.
---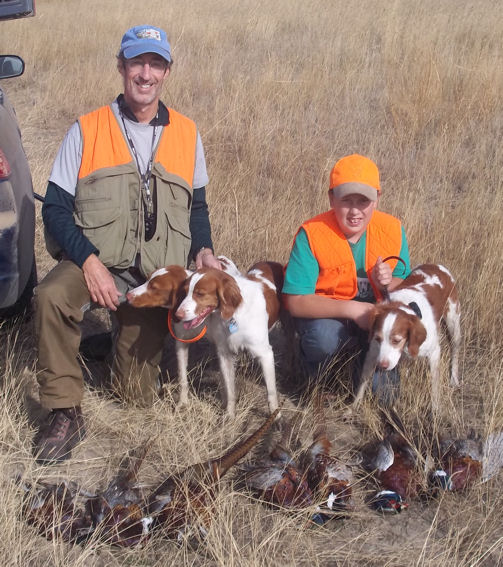 (L to R) Humans: Todd and Wrangler. Britts: daughter Breez (7 mo.), Momma Maggie, and Grandmother Wyndy (10 yrs.) with a mess of Montana High-Line pheasants, 10-2011.
---
Melody and Sari with Rye at the 2011 Western Futurity. Rye earned the Dual Dog Award!
---
Skye with a Brittany puppy!
---
Welcome to Dragonfly Pekingese!
Hello, I am Jan and I have owned Pekingese for a number of years. My daughter Skye and I really enjoy showing Pekingese! Pekingese dogs were originally from China and were brought to England in the 1860's. From there they have spread so that all can enjoy these beautiful little dogs. The AKC recognized them in 1906 and the Pekingese Club of America was founded in 1909.
If you are thinking of purchasing a Pekingese, please carefully research their needs. Then asses your desire and ability to care for one. We enjoy their wonderful, individual personalities and fun loving nature! JB & Family.

Jesse, Sophie and Oscar
April, 2017

---
Oscar and Sophie are litter mates.
Oscar is what is called a "sleeve" sized Pekingese weighing in at a strapping 2.5 lbs. He may be the smallest Champion in recorded history...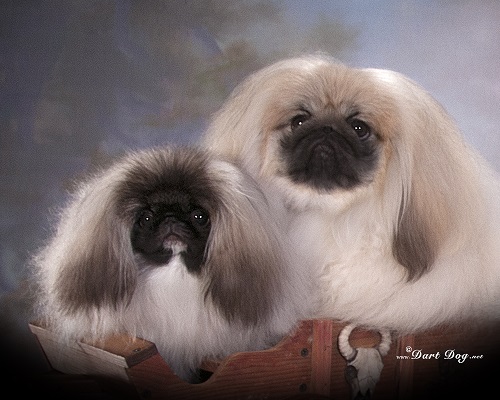 ---
Cali: Grand Champion, Skye handling.

---
Lexi:
GCH Dragonfly Ticked To Amore
Rated in the top 5 in the Nation in Peke Grand Champion points and #1 bitch.
As of Oct., 2014.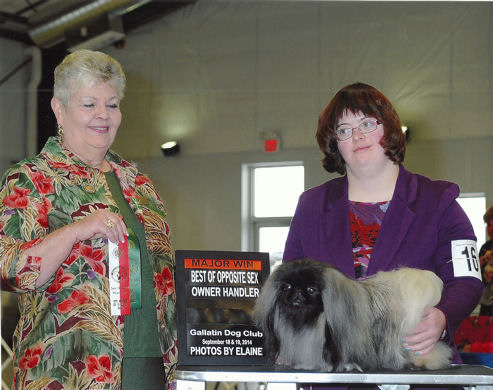 Skye showing Lexi in Helena, MT Sept. 2014.

---
Glitter:
GCH Dragonfly Sparkling Imagination
[pup name Holly] Out of Senza and Tommy.
WON Pekingese Winners Bitch AND an Award of Merit at the Westminster dog show 2-10-14.

---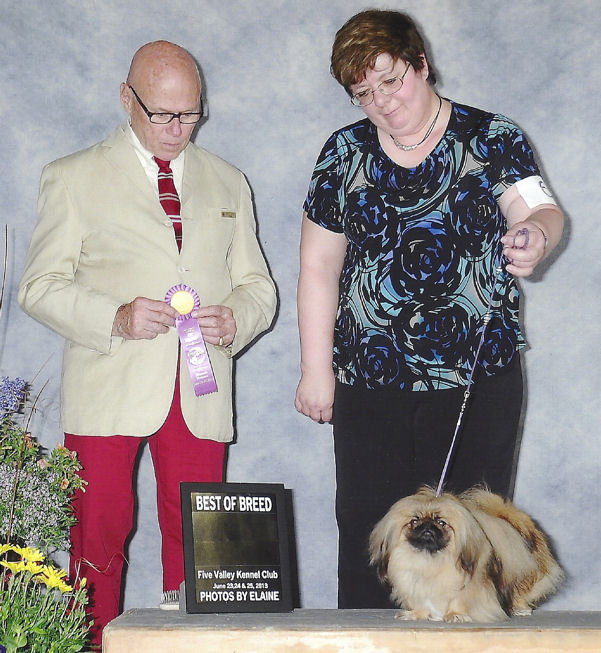 Myka earns Best of Breed and more Grand Championship show points with Jan handling. June, 2013.
---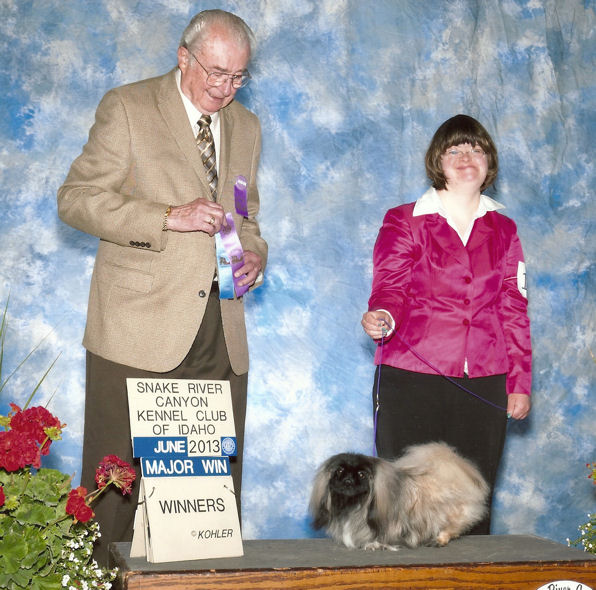 Skye is very happy to earn a Major Win with Lexi! June, 2013.
---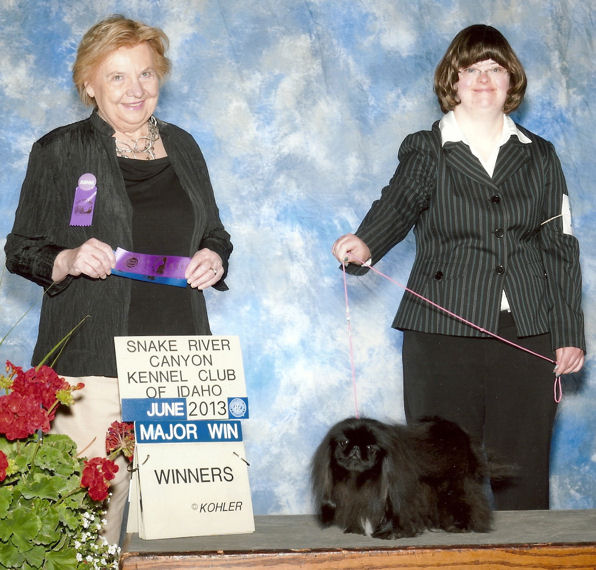 Cookie earns a Major Win with Skye handling. We co-own Cookie with good friend Shirley. June, 2013.
---
Jan earns a Major Win with Lexi, June, 2013.
---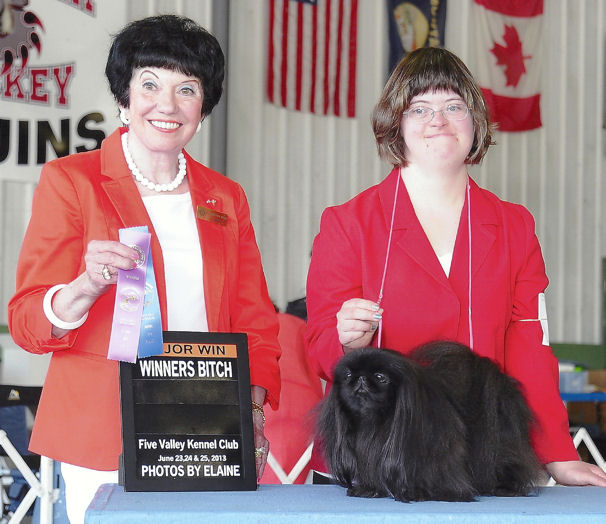 Skye and Cookie earn a Major Win in Montana. June, 2013.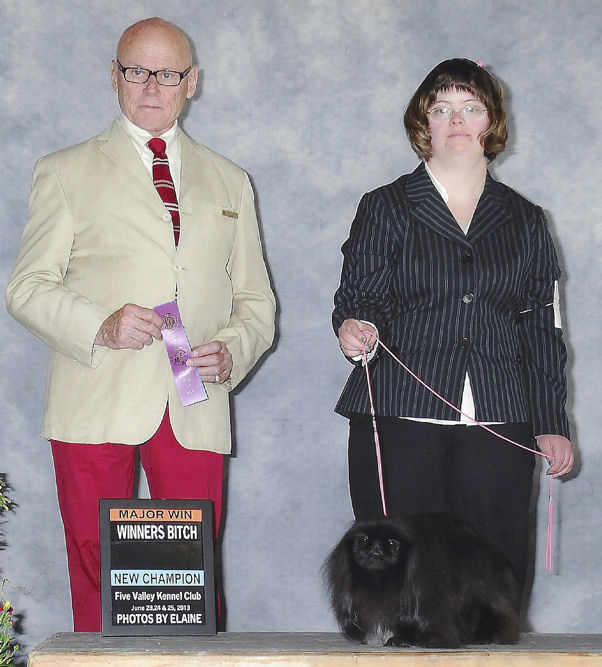 Skye finishes Cookie's show Championship! Great Falls, MT, June, 2013.

---
Myka earns her Grand Championship at the Enumclaw, WA Pekingese Specialties August, 2012. Sari is handling.
---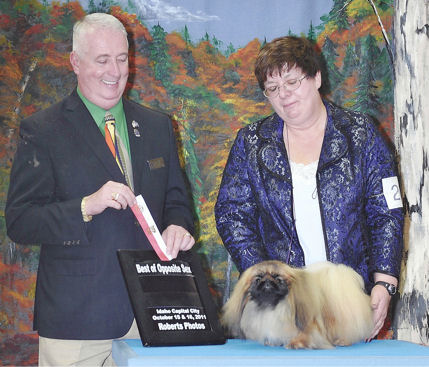 Senza, the number one AKC Grand Champion show pointed Pekingese bitch in the Nation for 2011.
---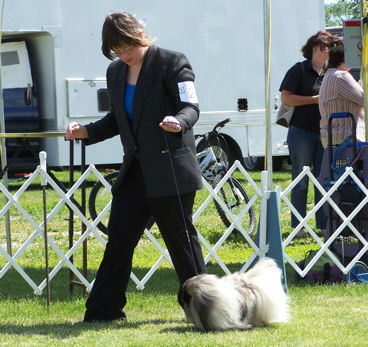 Skye in the Show Ring

---