---
No longer accepting deposits for Maggie x Quinn litter. Ultra sound planned for the first week in June. Pups due about June 30th, 2013.
---
Tentatively Planned breeding: Breez x Rocket, late fall 2013.
---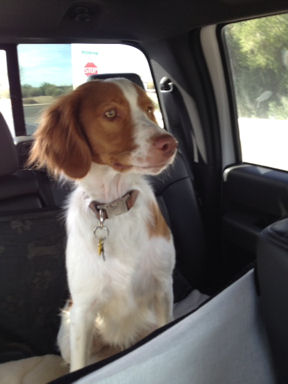 Charlie (Royal Coachman - From Maggie x Dubb) at 11 months old, spring, 2013 - heading out for a run near Ennis, MT.
---
Ida (Co-owned with Jim in ID) on point, training on chukars along the Salmon River, winter, 2013.
---
Welcome to the web site of Warbonnet Brittanys!

Hello, I am Todd and I grew up with those wonderful do-it-all family hunting dogs we call Brittanys!! I have owned, hunted and enjoyed Brittanys with my Father in Eastern Washington since I was a youngster in the 1960's. I moved to Montana in 1976 and started breeding an occasional litter of Brittanys in 1984. Now my family and I live, hunt, exercise, field trial, show, hunt test, hike, rally, fly fish, agility, etc., etc., with our fine furry Brittany friends here in Whitehall, Montana. We also produce an occasional litter of puppies from OFA (hip) certified Dual Quality Brittany bloodlines that can HUNT!
HAPPY HUNTERS/FAMILY
---
We hope this web site will educate you about Brittanys, us, and the many ways you can enjoy one of these fine little dogs. TB & Family.
---
Now offering:
Elk antler dog chews - Deer antler dog chews
For sale at:
Chews Montana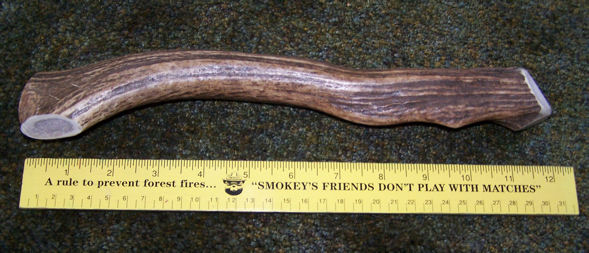 Click on the link above to find out more about these all natural, made in Montana, long lasting dog chews!
---
2012-2013 Happenings

1. At the Montana Brittany Club field trial in late August, Ida won the derby and earned 2 field trial points. Todd handling on Ruger. She beat 15 other Derby dogs mostly handled by pros!

2. At the Helena/Bozeman shows in Sept. Ruby (Ida and Breez's older full sister) earned two majors and finished her show championship. Congrats Jim and Z!

3. Also at the Helena/Bozeman shows Breez earned two majors and now has 13 show points (a dog needs 15 points and 2 major wins to finish a show championship).
4. Nov. Todd shot a 5x5 elk and he (by himself!) and the horses packed it out.

5. Nov. D&D filled both their cow and bull tags at once (Todd ran a herd of ~70 elk by them) and we packed ALL 4 elk out with the horses the next day.... whew, a lotta work!
We took 6 elk out of "elk hole" this season.
6. Breez and Ida will compete in the American Brittany Club Central and Western Futurity in April (both field and show).

7. April 5, 2013, Iowa: Breez places 3rd Senior Female at the ABC Central Futurity Show and 4th Open Female at the Iowa Brittany Club Specialty Show. Both with Z handling (Z's first time in the show ring!). Good Job Z!!

---
Ruby (CH Warbonnet Ruby Tuesday, JH) earning her show championship, fall 2012. L-R: The fine Judge, Handler Pam Sage, Owner Jim, and Z.
---
Lady Rose (

Warbonnet Whiskey

out of Meadow x Jesse) doing what she is bred to do for her happy owner in Washington state! You can see that she still wants to be hunting!! Fall, 2012.
---
Rye running all out in a field trial, Fall 2012.
Photo by Jessica Carlson, Flashpoint Photography.
---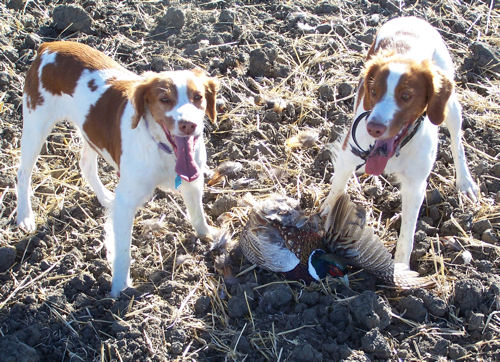 Maggie and Breez fetching a winged Montana rooster, Fall 2012. They had to run this one down in the plowed field (note the feathers on Breez's tongue...).
---
L To R: Humans: Jim and Z. Britts: Ruby, Ida and Breez. All from Maggie x Dubb. Hunt test ribbons 3-2012, ID. A snowy and rainy weekend. Ruby belongs to Jim, we co-own Ida with Jim and Breez is ours. March, 2012.
---
L-R: Britts: Wyndy, Breez, and Maggie. Kids: Wrangler and Sari - with the results of a morning SD pheasant hunt, Dec., 2011.
---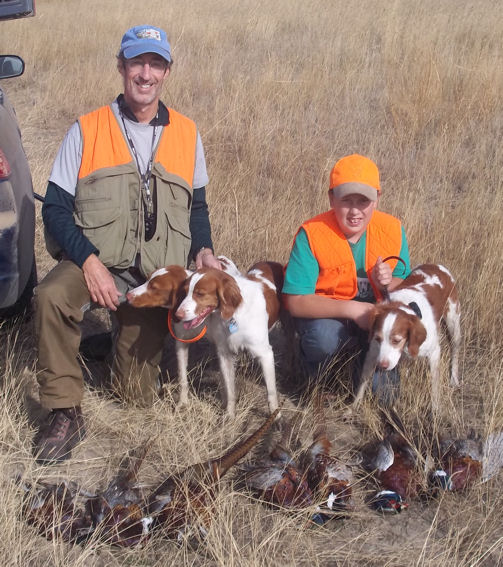 (L to R) Humans: Todd and Wrangler. Britts: daughter Breez (7 mo.), Momma Maggie, and Grandmother Wyndy (10 yrs.) with a mess of Montana High-Line pheasants, 10-2011.
---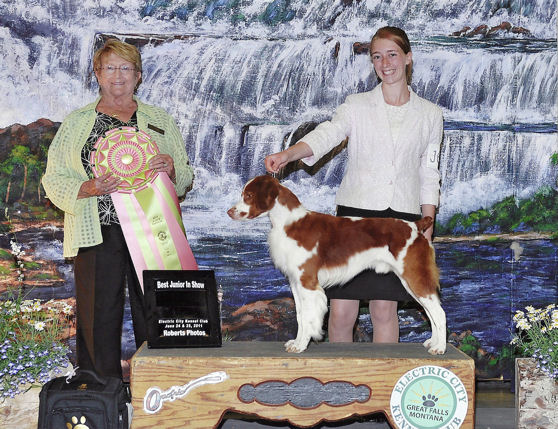 Sari going best junior in show with Rye at the Great Falls, MT show, Summer 2011.
---
American Brittany Club Western Futurity

: Jan. 2011 in CA - Rye places 3rd in the show with Sari handling and 3rd in the Gun Dog Field Trial with Melody handling to earn the

Dual Dog Of The Year Award

! In this photo Sari is handling Rye and Melody is standing behind Sari. Rye is co-owned by Melody and us (Sari and Todd). We are quite happy about this. :-)
More good news: 3-24-11, Rye's hips are

OFA Excellent

, elbows normal. Rye's photo on the cover of the Oct., 2011 American Brittany Magazine.
---
Skye with a Brittany pup!
---
Myka earns her Grand Championship at the Enumclaw, WA Pekingese Specialties August, 2012. Sari is handling.
---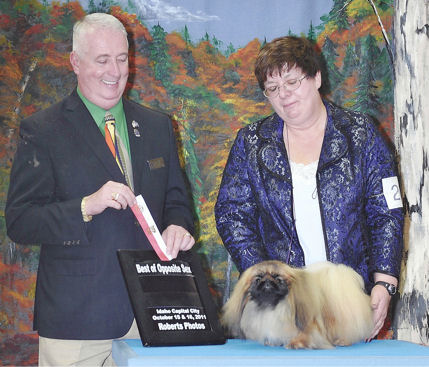 Senza, the number one AKC Grand Champion show pointed Pekingese bitch in the Nation for 2011.
---
Welcome to Dragonfly Pekingese!
Hello, I am Jan and I have owned Pekingese for a number of years. My daughter Skye and I really enjoy showing Pekingese! Pekingese dogs were originally from China and were brought to England in the 1860's. From there they have spread so that all can enjoy these beautiful little dogs. The AKC recognized them in 1906 and the Pekingese Club of America was founded in 1909.
---
If you are thinking of purchasing a Pekingese, please carefully research their needs. Then asses your desire and ability to care for one. We enjoy their wonderful, individual personalities and fun loving nature! JB & Family.


---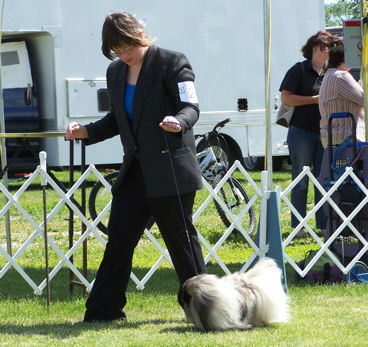 Skye in the Show Ring

---