---
Indy (out of Maggie x Quinn, pup name Independence) earning a show major win in Blackfoot, ID in June, 2014. I am showing him for his owners from Kalispell, MT (one of whom is pictured with me). Todd :^)
---
Sari training her new racking horse Ranger for fun, field trials and hunting. August, 2014.
---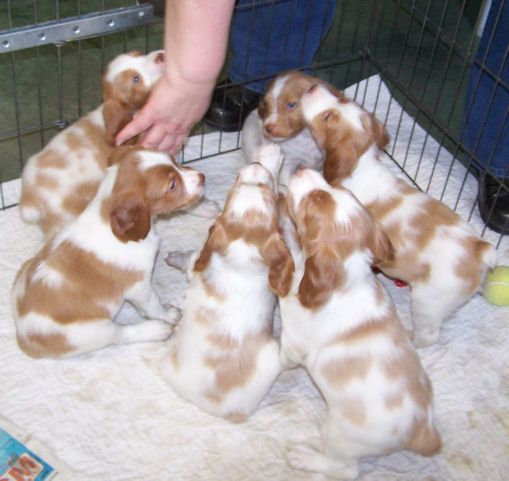 Breez x Quinn pups at 5 wks. old.
March, 2014.
See: Breez x Quinn
---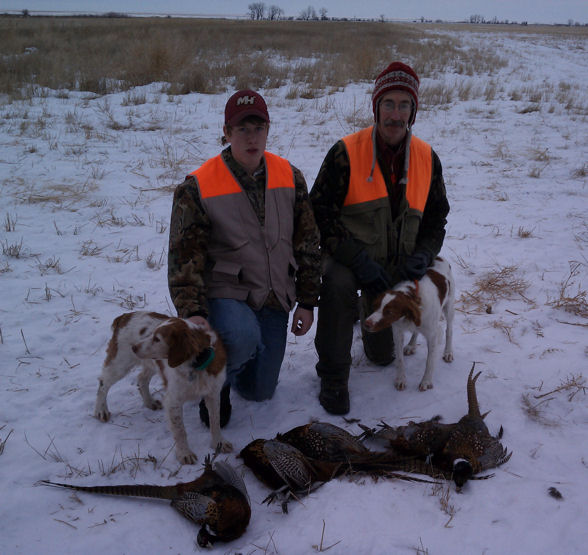 Humans L to R: Wrangler and Todd
Dogs L to R: Meadow and Breez
A late Dec. 2013 pheasant hunt on a VERY cold Hi-Line day.

---
Nov. 2013: My 83 yr. old Father dragging his rag horn bull out to the truck. We cut it into 2 pieces to drag it across the hill and then it took only 1 person to drag it down the hill in the snow to the truck.
---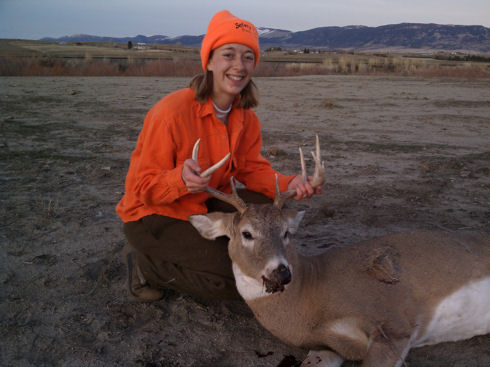 Sari's 2013 5x4 buck. She made a great running shot as I pushed the deer out of heavy cover.

---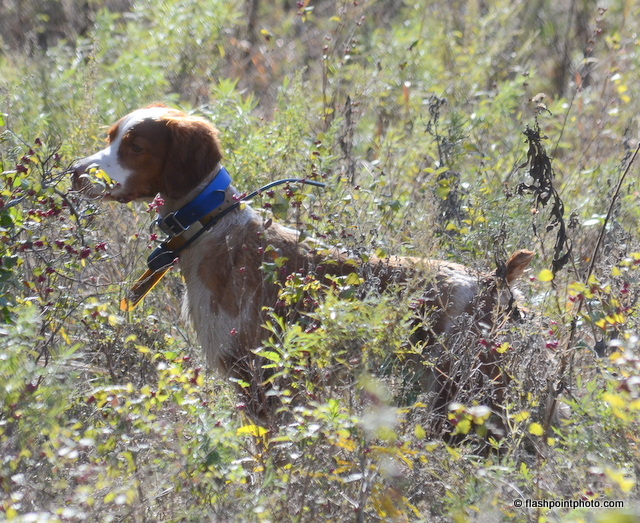 Rye intensely on point at a field trial in the mid west. He has now qualified for the 2014 American Brittany Club Gun Dog Nationals. Photo from Jessica Carlson.

---
Breez taking a major at the Blackfoot, ID shows, June, 2013.
She finished her show Championship and is now:
CH Warbonnet Chinook Wynd.
---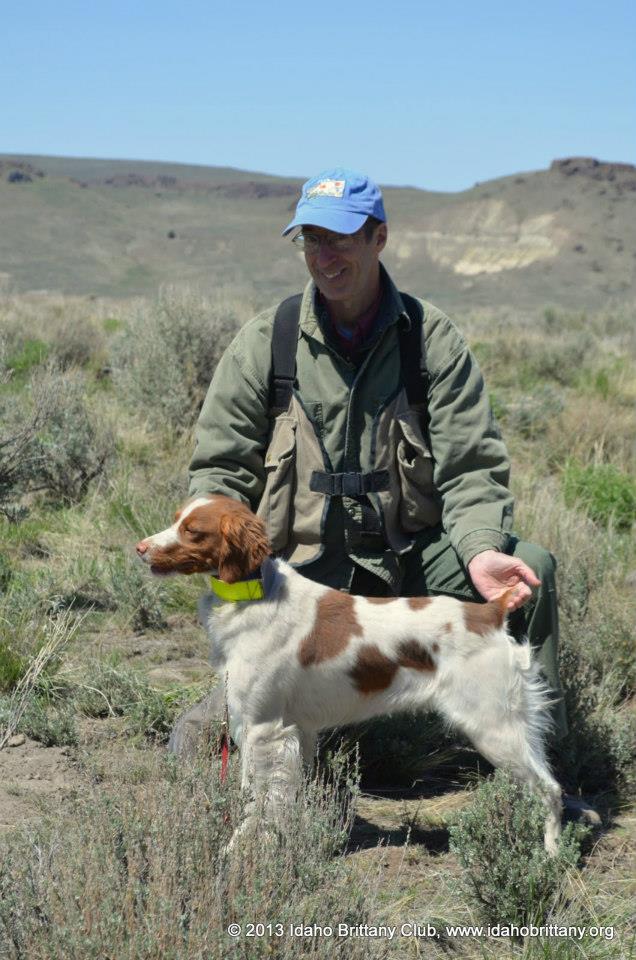 CH Warbonnet Chinook Wynd
Breez at the Western Futurity field trial, May 1st, 2013.
Breez finished her show championship at the Blackfoot, ID shows 6-14-13. She earned a 3-point major and went best of winners. We took Sat. off to celebrate and on Sunday she went best of opposite in a really nice entry of Britts...


---
Welcome to the web site of Warbonnet Brittanys!

Hello, I am Todd and I grew up with those wonderful do-it-all family hunting dogs we call Brittanys!! I have owned, hunted and enjoyed Brittanys with my Father in Eastern Washington since I was a youngster in the 1960's. I moved to Montana in 1976 and started breeding an occasional litter of Brittanys in 1984. Now my family and I live, hunt, exercise, field trial, show, hunt test, hike, rally, fly fish, agility, etc., etc., with our fine furry Brittany friends here in Whitehall, Montana. We also produce an occasional litter of puppies from OFA (hip) certified Dual Quality Brittany bloodlines that can HUNT!
HAPPY HUNTERS/FAMILY
---
We hope this web site will educate you about Brittanys, us, and the many ways you can enjoy one of these fine little dogs. TB & Family.
---
Now offering:
Elk antler dog chews - Deer antler dog chews
For sale at:
Chews Montana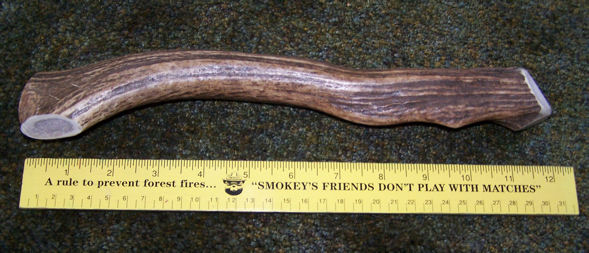 Click on the link above to find out more about these all natural, made in Montana, long lasting dog chews!
---
Ruby (CH Warbonnet Ruby Tuesday, JH) earning her show championship, fall 2012. L-R: The fine Judge, Handler Pam Sage, Owner Jim, and Z.
---
Rye running all out in a field trial, Fall 2012.
Photo by Jessica Carlson, Flashpoint Photography.
---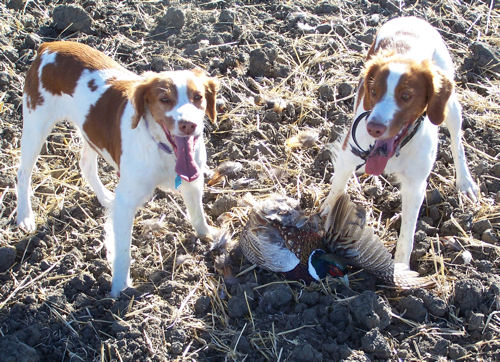 Maggie and Breez fetching a winged Montana rooster, Fall 2012. They had to run this one down in the plowed field (note the feathers on Breez's tongue...).
---
L To R: Humans: Jim and Z. Britts: Ruby, Ida and Breez. All from Maggie x Dubb. Hunt test ribbons 3-2012, ID. A snowy and rainy weekend. Ruby belongs to Jim, we co-own Ida with Jim and Breez is ours. March, 2012.
---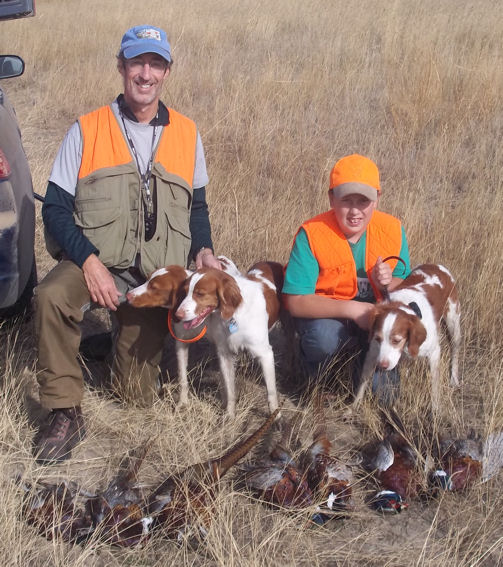 (L to R) Humans: Todd and Wrangler. Britts: daughter Breez (7 mo.), Momma Maggie, and Grandmother Wyndy (10 yrs.) with a mess of Montana High-Line pheasants, 10-2011.
---
---
Skye with a Brittany pup!
---
Cool News!
Dragonfly Sparkling Imagination
[pup name Holly]
Out of Senza and Tommy.
WON Pekingese Winners Bitch AND an Award of Merit at the Westminster dog show today 2-10-14.
This nice young bitch is owned by a very nice show person in Texas.

Welcome to Dragonfly Pekingese!
Hello, I am Jan and I have owned Pekingese for a number of years. My daughter Skye and I really enjoy showing Pekingese! Pekingese dogs were originally from China and were brought to England in the 1860's. From there they have spread so that all can enjoy these beautiful little dogs. The AKC recognized them in 1906 and the Pekingese Club of America was founded in 1909.
If you are thinking of purchasing a Pekingese, please carefully research their needs. Then asses your desire and ability to care for one. We enjoy their wonderful, individual personalities and fun loving nature! JB & Family.
---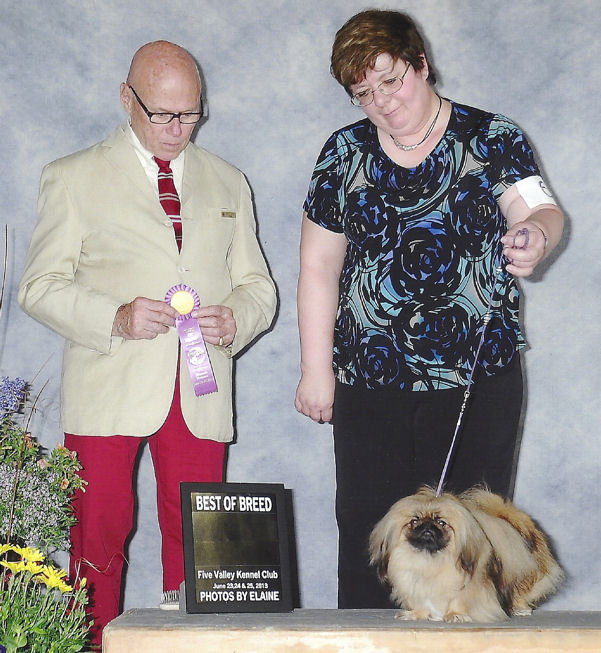 Myka earns Best of Breed and more Grand Championship show points with Jan handling. June, 2013.
---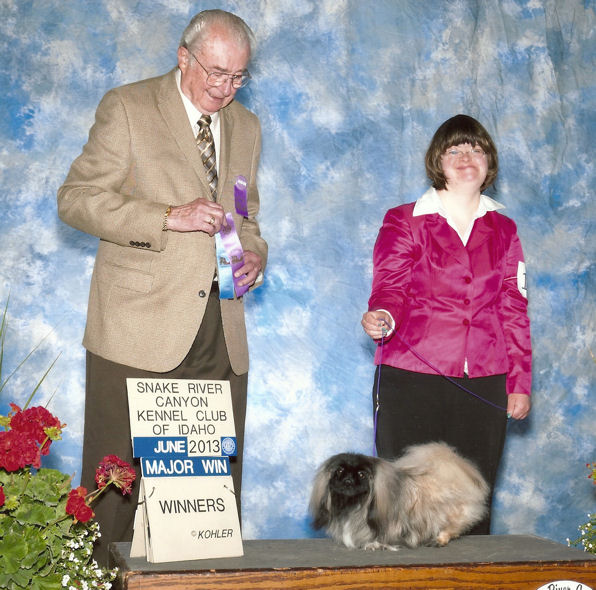 Skye is very happy to earn a Major Win with Lexi! June, 2013.
---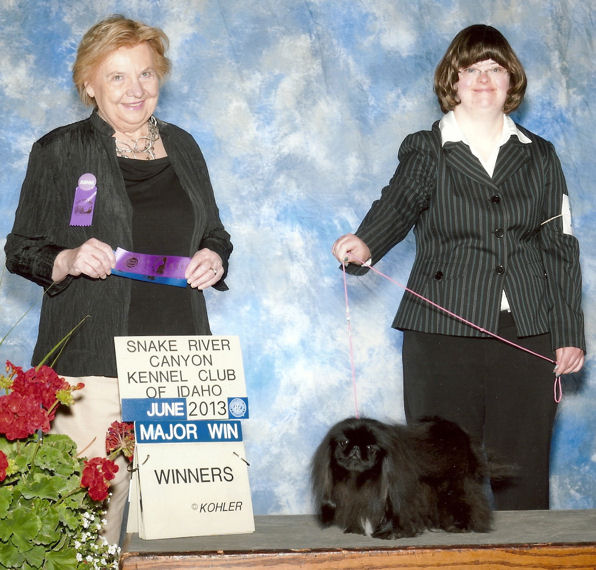 Cookie earns a Major Win with Skye handling. We co-own Cookie with good friend Shirley. June, 2013.
---
Jan earns a Major Win with Lexi, June, 2013.
---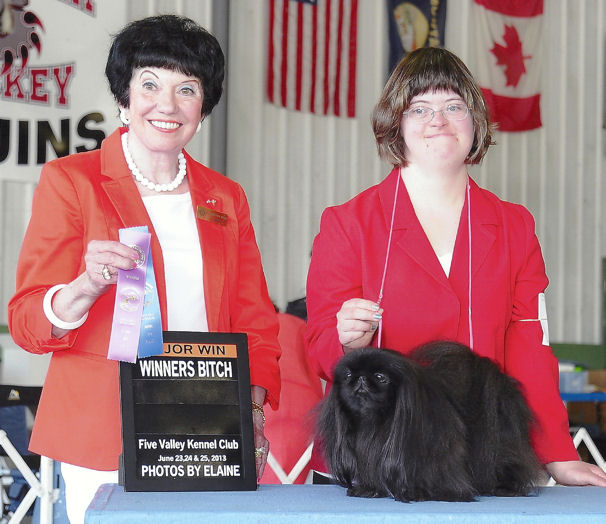 Skye and Cookie earn a Major Win in Montana. June, 2013.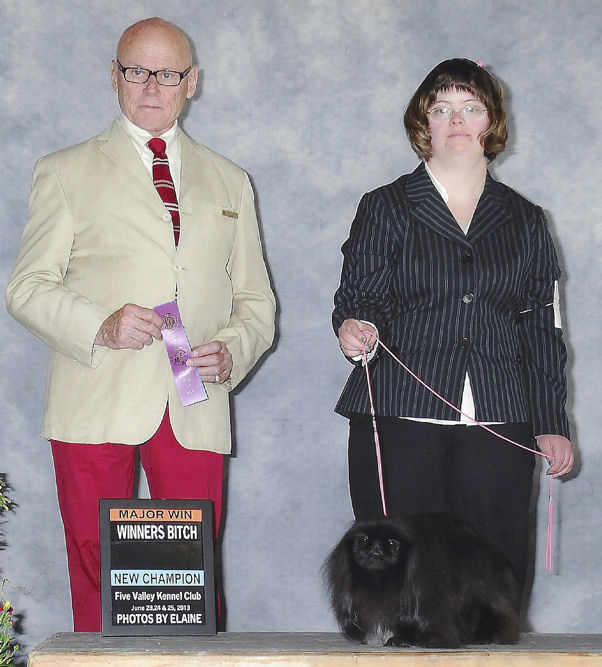 Skye finishes Cookie's show Championship! Great Falls, MT, June, 2013.

---
Myka earns her Grand Championship at the Enumclaw, WA Pekingese Specialties August, 2012. Sari is handling.
---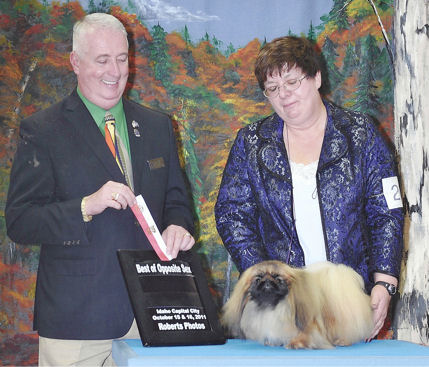 Senza, the number one AKC Grand Champion show pointed Pekingese bitch in the Nation for 2011.
---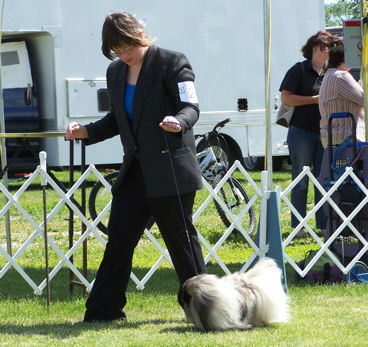 Skye in the Show Ring

---