Weekly Weights in Grams (g)
Taken on Fridays
| | | | | | | | | | |
| --- | --- | --- | --- | --- | --- | --- | --- | --- | --- |
| Date | 2-15 | 2-22 | 3-1 | 3-8 | 3-15 | 3-22 | 3-29 | 4-5 | Going home April 6-10 |
| 1. Male: Tango "Tango" Bonners Ferry, ID (W.B.) | 400 | 868 | 1,340 | -- | 2,092 | 2,772 | 3,686 | 4,338 | Todd is chairperson of the |
| 2. Male: Foxtrot "Trotter" Missoula, MT (M.C.) | 374 | 672 | 1,080 | -- | 1,782 | 2,386 | 3,156 | 3,702 | MTBC Hunt Test April |
| 3. Male: Tap "Tapper" Denver, CO (J.L.) | 356 | 696 | 1,104 | -- | 1,804 | 2,432 | 3,160 | 3,650 | 13-14 near Billings. We |
| 4. Female: Cha-cha "Cha-Cha" Minot, ND (K.B., J.C.) | 394 | 764 | 1,162 | -- | 1,868 | 2,502 | 3,106 | 3,658 | will all be there starting |
| 5. Male: Jig "Jigs" Darby, MT (K.&B.K.) | 374 | 766 | 1,168 | -- | 1,940 | 2,654 | 3,472 | 4,118 | on the 11th. Jan is the |
| 6. Female: Salsa "Salsa" Sidney, MT (J.&G.K.) | 366 | 696 | 1,054 | -- | 1,632 | 2,202 | 2,762 | 3,242 | Hunt Test Secretary. |
| 7. Male: Twist "Twister" Livingston, MT (C.P.) | 354 | 716 | 1,096 | --** | 1,782 | 2,426 | 3,154 | 3,824 | |
| Average wt. | 374* | 740 | 1,143 | -- | 1,843 | 2,482 | 3,214 | 3,790 | |
| Average weekly wt. gain | --- | 366 | 403 | 350 | 350 | 639*** | 728 | 576 | |
*Av. birth wt. on Tue. 2-15-19.
**3-8-19: Todd was at a field trial, specialty show and the Futurity in Colorado and Jan had a sudden death in the family. Therefore, we were not able to measure weights or take photos. Thank you for your underestanding.
***This week they started to receive puppy chow so their weight gains took off!
- The Volhard puppy aptitude test will be about 4-5-19.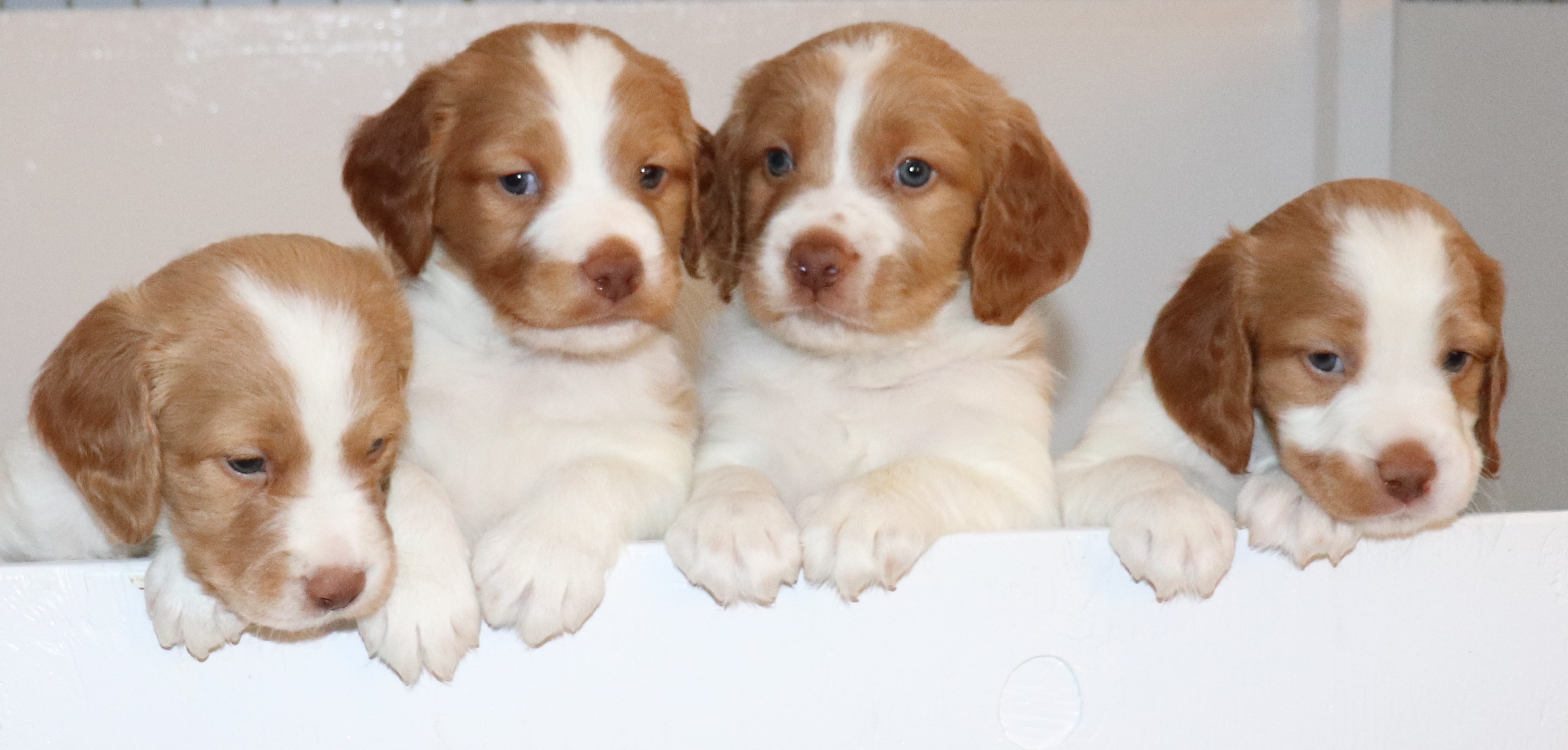 Four of the Brittany pups from Dancer x Oudi. 3-20-19.
---
Back to Dancin' Litter